Treatment for Diabetic Eye Disease in West Central Ohio
The eye doctors at Valley Eye Institute are dedicated to preserving the vision and caring for the eye health of patients in West Central Ohio. Our diabetic eye care specialists are experienced in diagnosing and managing Diabetic Retinopathy. If you are seeking high-quality care for diabetic eye disease, contact us in Sidney, Bellefontaine, Piqua, or Troy, Ohio.
What is Diabetic Retinopathy?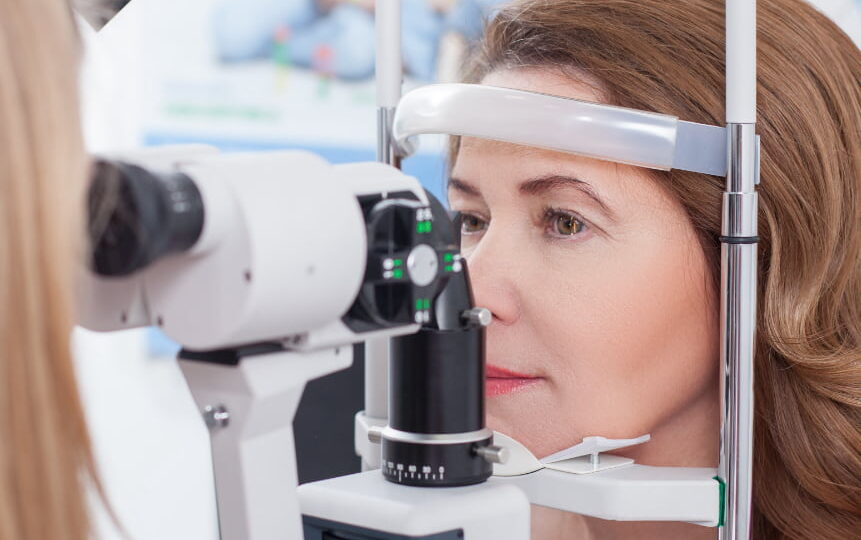 The retina is located in the back of your eye and is made of light-sensitive cells. When functioning properly, the retina processes light to the optic nerve to create visual images. Diabetic Retinopathy, which is caused by high levels of blood sugar, damages the blood cells that nourish the retina. Diabetic Retinopathy affects more than eight million Americans and it is a leading cause of blindness among working age adults.1
Symptoms of Diabetic Retinopathy
Patients with early stage Diabetic Retinopathy often experience no symptoms. It is important to have regular eye exams even if you have no symptoms because up to 90% of permanent vision loss caused by this disease can be prevented with early detection and treatment.2 Symptoms of later stage Diabetic Retinopathy include:
Increased eye floaters
Distorted or blurry vision
Decreased night vision
Changes in the way you see colors
Vision loss
Risk Factors for Diabetic Retinopathy
People with Type 1 Diabetes, Type 2 Diabetes, or Gestational Diabetes are at risk of developing Diabetic Retinopathy and risk increases the longer you live with diabetes3. Additional risk factors include:
Uncontrolled blood sugar levels
High blood pressure or high cholesterol levels
African-American or Hispanic/Latino heritage
Types or Stages of Diabetic Retinopathy
Nonproliferative Diabetic Retinopathy
Nonproliferative Diabetic Retinopathy (NPDR) is sometimes called Background Diabetic Retinopathy because it encompasses the earliest stages of the disease. In NPDR retinal blood vessels become narrowed and unable to carry enough oxygen to the retinal tissue. Microaneurysms represent small areas of weakening in the diseased blood vessels that tend to leak and bleed easily, thus resulting in focal areas of retinal swelling and deposits in the retina called hard exudates.
Patients with mild, moderate, or even severe NPDR may not experience symptoms even as the retina sustains damage; this is why it is so important for anyone with diabetes to receive regular monitoring from an experienced eye doctor.
Proliferative Diabetic Retinopathy
Proliferative Diabetic Retinopathy (PDR) is the advanced stage which is characterized by more significant blood vessel abnormalities and leaking. The body tries to repair the damage to the retinal blood vessels by forming new blood vessels. However, these abnormal blood vessels are fragile and can break and cause dangerous leakage in the eye.
Treatment for Diabetic Retinopathy
The treatment plan for Diabetic Retinopathy may vary from simple observation to intervention with retinal laser treatments or even referral to a retinal specialist in complicated forms of the disease.
Frequently Asked Questions About Diabetic Retinopathy
How is Diabetic Retinopathy Diagnosed?
Annual dilated eye exams are important because they allow your eye doctor to examine the back of your eye where your retina is. Your eye doctor may also use diagnostic tools such as fluorescein angiography to detect blood vessel abnormalities.
Can Diabetic Retinopathy lead to other eye complications?
Yes, Diabetic Retinopathy can contribute to other eye conditions, such as Neovascular Glaucoma, Macular Edema, and Retinal Detachment.
Can I prevent Diabetic Retinopathy?
You may be able to prevent Diabetic Retinopathy by controlling your blood pressure through a healthy diet, exercise and medication on the advice of your physician4. Regular eye exams are important even if your blood pressure is controlled.
Contact Valley Eye Institute
Real Patient Reviews
Great from start to finish! Everyone was so friendly, from the receptionist at the front desk to Donna the Assistant and even Dr. Bornhorst. The quality in their care and attentiveness cannot be matched.
-F.S.
Dr. Ward and his team are amazing at what they do. The staff is always professional and kind, and Dr. Ward Stays abreast of new eye treatments & medicines. I feel reassured my vision is important to them, and I believe they have my best health outcome in mind.
– Jessica B.
Friendly professional staff, and I have always had excellent results with all of my eye treatments. Especially with the amniotic stem cell treatments to repair my corneal tears. Their state-of-the-art equipment produces quick test results so the consultation appointment can efficiently cover everything needed.
– Terri S.
Dr. Ward took time to listen to me and my concerns. He explained what was going on with my eyes in a manner that was easy to understand, and I appreciate that very much. He asked questions to be sure he knew the extent of my concern and then performed his exam. I would recommend Dr. Ward and his team to everyone. Customer service is still alive and well at this office! Thank you, Dr. Ward and your staff!
– Tracy M.